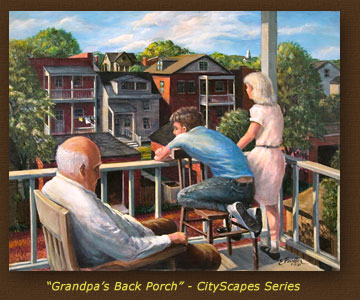 Paintings by Edward Farber are available in beautiful giclee reproductions, signed and numbered by the artist, published by Timberwood Press.
Join our email list for news of special offers and new additions.



A painter in oils and acrylics,
Edward Farber
explores the human experience in different aspects, but always with strong images. His paintings of city neighborhoods, available in collectible print series, evoke a sense of familiarity in viewers who spent their youth on the streets, sidewalks, and back alleys of midwestern or northeastern cities.
Also presented here are other selections from several popular series.
Not content with painting alone, Edward Farber uses writing to extend his exploration of the human condition. He is a published writer of short stories.
INTRODUCING A NEW SERIES OF PAINTINGS:
MUSIC SERIES
- Paintings and drawings with a music-related theme.
INTRODUCTORY PRICING
: 20% Off the listed price for this series and all other series, for a limited time only. Go to the shopping cart section and enter Code Number
xcoup1
in the area for special promotion coupon.