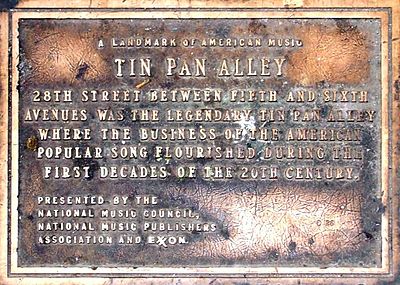 Most of us, especially if you're over 50, have heard the name Tin Pan Alley in relation to pop music in America. In the late 1890s until the 1920s or so it referred to an old neighborhood in New York that was the center of the music industry. The location was on 28th Street between Fifth and Sixth Street. Here most of the music publishers of the time located their businesses in old, three and four-story buildings.
At the time, songs became popular through sheet music sales. A songwriter would sell his song to a music publisher who would then publish it in sheet music form, mostly for the piano. The publisher would then "plug" the song in music halls, variety theaters, anywhere that music could reach the public. Remember, it was before the phonograph record became the primary means of getting a song heard.
Much of my novel takes place in that musical world of vaudeville, songwriters and music publishers. And Tin Pan Alley plays a significant role. In fact, as I wrote in an earlier blog, one of the "real" characters in my book, Monroe H. Rosenfeld, actually was a songwriter of that time who originated the name Tin Pan Alley, according to most sources.
My main protagonist, Billy Brannigan, meets Rosenfeld in the first chapter of the book, and they become friends. In fact, Rosenfeld is responsible for Billy finding the love of his life, Lily Langford. It's all in the book, and here is where you can get it:
Barnes & Noble: Barnes and Noble
Amazon print: http://amazon.com/dp/0990829561
Kindle ebook: http://www.amazon.com/dp/B00TG0G3JC